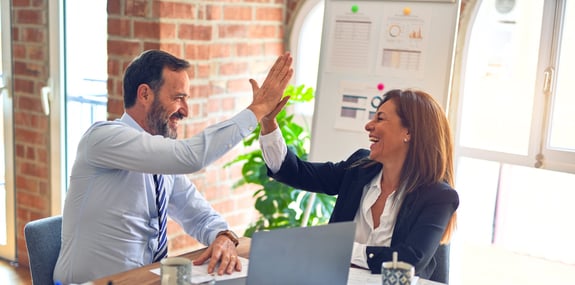 PARTNER WITH FLYWHEEL CONSULTANCY
Benefit from our team of Diamond HubSpot Specialists!
WHAT IT ENTAILS
We provide expert HubSpot consulting and implementation services for agencies and partner businesses. Our team serves as a dedicated partner for your business and your clients, managing the entire implementation and onboarding process to ensure your clients are maximizing their HubSpot investment.
SECURE A PARTNERSHIP
We're ready to come together and work our HubSpot magic for you and your clients! Please fill out the form to get started.
WHAT IT'S LIKE WORKING WITH US
"
We couldn't be more happy - 10/10 on all points! 🚀Ronald has helped us from week to week on aspects that makes our business more scalable. We are so happy with his delivery and we are looking forward fore more!"
"
Had a great experience working with FlyWheel. Ronald helped us with every question and got us up and running quickly and efficiently. He also recorded videos demonstrating how to do things. I recently watched one of those videos and was grateful for the resource. Highly recommended!"
"
Ron and his team were excellent to work with. The attention to detail that was given to our CRM set up assured the team we would have a smooth transition from our legacy platform to HubSpot. Thank you Ron and team! We will continue to use you for frequent training and system enhancements."
"Ron was able to take our unique business model and integrate our CRM into HubSpot with some nifty automatic workflows. Our only regret is that we did not get Ron on board sooner to get HubSpot functioning. We will continue to use (FlyWheel Consultancy) in the future and highly recommend their services to those looking for effective HubSpot solutions."
"
Ron and his team were a huge help in getting our company up and running with HubSpot CRM. They then helped us integrate customer support features. We have retained (FlyWheel) for on going support and we're very happy with their responsiveness and attention to detail."
"
Ronald did a fantastic job scrubbing our HubSpot database of old contacts and set us up on new sequences that helped the entire team be more efficient. Excellent resource if you are looking to improve how you use HubSpot to increase sales."
"
I won't bore you with the specifics of my use case - but do yourself a favor and hire Ron and (FlyWheel). I knew we were sitting on a rocket ship with the HubSpot Professional Suite - but Ron gave us the keys and helped us fly. He's attentive, understanding and all around a really great guy to work with. We will be working with him again, no doubt."
"Before we hired FlyWheel Consultancy, our HubSpot CRM was a disaster. The incredible capability of HubSpot is best realized by hiring true experts to ensure effective and efficient implementation. We are truly thankful for the support from (FlyWheel Consultancy) and look forward to a long-lasting relationship."
"FlyWheel Consultancy has created more than 60 complex workflows for our teams. There is nothing they can't do in HubSpot, and if they don't know how to instantly, they'll roll up their sleeves to figure out what is possible. If you have the opportunity to hire (FlyWheel Consultancy), do it. You won't regret it."
"Our team is so grateful to FlyWheel Consultancy and their work helping us optimize our 3 companies in Hub. They're quick, clear, communicative, and knowledgeable. What more could a business owner want?"
"
Ron is the man! He and his team were available whenever we had a question about our CRM Upgrade. He helped us create some great campaigns that have helped our business tremendously. We could not of had a better experience 10/10 will be working with him and his team in the future!"